I have not been thinking about getting a swinging bed. But today one of my friends on Facebook shared a blog post she did a while back about porch swings, swinging beds and swinging chairs. One room or porch was prettier than another. With summer approaching I am thinking it would be so fun to take a nap on a porch or deck in one of these.
Swinging Bed in the Bedroom
Day Bed Swing on a Porch
Here is a day bed swing. Doesn't it look cool and comfy? Can you imagine laying there with the flowering vines above? Pure bliss!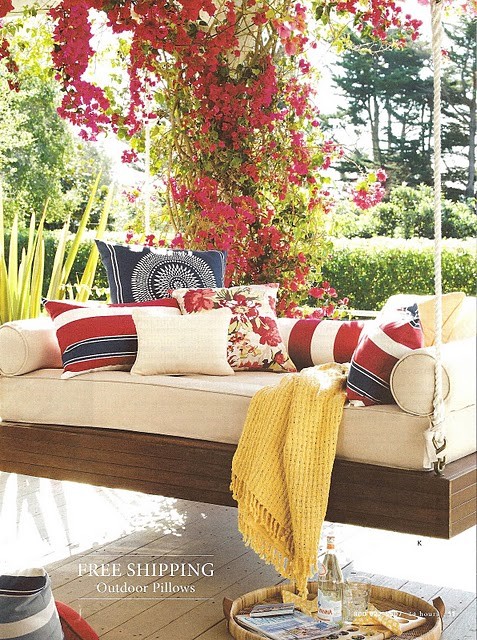 Full Size Swinging Bed on a Screened in Porch
How about a full size bed on a screened in porch?
Full Sized Swinging Bed in Bedroom
I think the mural on the wall behind this swinging bed is amazing.
Comfy Swinging Chair
If you don't have room for a day bed or regular bed, how about a cozy swinging chair? Bring a good book when you sit here.
All of the photos in I posted here are from
Houzz
. I discovered this website today, and can see I will spend lots more time there. It has all kinds of decorating ideas, and you can set up idea books with photos of the things you love. That sure beats the way I did this years ago. I would cut pictures out of magazines and tape them into notebooks. I must admit I still have some of those. :)
P.S. Speaking of naps on the porch, I also subscribe to a delightful blog called Between Naps on the Porch. She has a
good post
on what it costs to add an enclosed porch to the house. You probably will want to read many of her posts. They are excellent.
Do you have any fun relaxing furniture on your porch or deck. Let us know about them in the comments here.