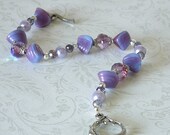 Mermaids are such wonderful imaginary beings. When I found these delightful mermaid toggle clasps, I just had to get a few of them to try out on my jewelry creations. I had some lovely purple clamshell Czech glass beads so I was set to design this very special bracelet.
Notice the detail of the mermaid in the picture of the toggle clasp. Her fin splashes across the ocean waves.
Click Here to Visit My Etsy Shop!